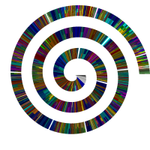 lightshowdna
Computer sequenced light shows from concerts. Umphrey's McGee is my favorite band but I might generate some others too. Email me at dylanhrush@gmail.com if you'd like to see a particular concert represented.
100% of my earnings on this site go directly to the Jacqueline Rush Foundation, jrushfoundation.org
More of my projects at dylanhrush.com
Read more
lightshowdna's Store
Filter
You are currently on society6.com.