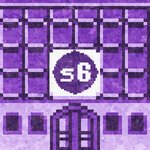 likelikes
Hi There! Thanks for checking out my art! And a very special thank you if you purchase anything from me! Primarily this shop offers prints, pillows, bags, clocks, shower curtains and duvet covers. Society6 offers all kinds of other things, like shirts and rugs and tapestries and coffee mugs and iphone cases and cards n' stuff. I can make any of those things with my designs at your request: superlikelikes@gmail.com If you'd like to see some cool curated video game themed art, please check out my website and follow me on Pinterest and Weheartit: Main Website: http://www.superlikelikes.com Pinterest: https://www.pinterest.com/likelikes Weheartit: http://weheartit.com/KariLikeLikes I'm also on twitter posting art daily one one account and 2x a week on anothter: https://twitter.com/karilikelikes https://twitter.com/like__likes OMG and I'm on Tumblr with 2 accounts as well: http://karilikelikes.tumblr.com/ http://like-likes.tumblr.com/ I'm a busy woman! Here's my facebook: https://www.facebook.com/ShieldEaters Many Thanks and May Fortune Smile Upon Thee!! -Kari likelikes joined Society6 on September 30, 2012
More
Hi There!
Thanks for checking out my art! And a very special thank you if you purchase anything from me!
Primarily this shop offers prints, pillows, bags, clocks, shower curtains and duvet covers.
Society6 offers all kinds of other things, like shirts and rugs and tapestries and coffee mugs and iphone cases and cards n' stuff. I can make any of those things with my designs at your request:
superlikelikes@gmail.com
If you'd like to see some cool curated video game themed art, please check out my website and follow me on Pinterest and Weheartit:
Main Website: http://www.superlikelikes.com
Pinterest: https://www.pinterest.com/likelikes Weheartit: http://weheartit.com/KariLikeLikes
I'm also on twitter posting art daily one one account and 2x a week on anothter:
https://twitter.com/karilikelikes https://twitter.com/like__likes
OMG and I'm on Tumblr with 2 accounts as well:
http://karilikelikes.tumblr.com/ http://like-likes.tumblr.com/
I'm a busy woman! Here's my facebook:
https://www.facebook.com/ShieldEaters
Many Thanks and May Fortune Smile Upon Thee!!
-Kari
likelikes joined Society6 on September 30, 2012.
Biker Tanks by likelikes
165 results
Filter