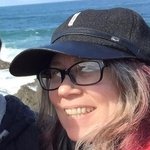 Rhys Studios - B. Taylor Rhys
Hello and welcome!
I'm a fan of Annemarie Ridderhof and she's my inspiration.
I love the fact that acrylic pouring forces patience on the practitioner/artist. To mix the paint, rushing will cause all sorts of problems...and bubbles. Planning the pour, the surface - more patience. The actual pour - even a flip cup requires me to step away from the cup, let the paints and chems settle before the initial reveal. Then, where the "cloud" will end up and how to visually enhance it to avoid "blob-age" and manage the visual interest hopeful composition without mudding out the piece. Covering the sides and the corners without rubbing in paint or back-filling and risking unwanted ribboning. Letting the paint stop moving and thin out to avoid cracking...More Patience! Then there's drying, curing, sealing, and possibly varnishing - it never ends! MORE Patience! And, here you thought we just plopped paint onto a surface and everything would magically be hunky-dorey. NosireeBob.
All those challenges, all those possible problems, learning to let go of the end result and not take it so seriously - THAT is why I pour.
I'm also on IG: https://www.instagram.com/rhys_studios/
Etsy: https://www.etsy.com/shop/RhysStudios
That said, I'm also on YouTube under "Cuppa Paint" for now. I'll update with the new channel when it happens.
Support me here, support me there - I'm grateful for anyone showing up!
Thank you for the read!
Read more
Rhys Studios B. Taylor Rhys's Store
Filter