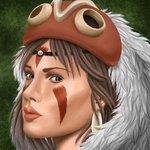 Art of Nym
Linda Visser was born in 1988 in Hoogkarspel, The Netherlands. At the age of 15 she started drawing manga styles characters. Soon she began to like drawing comics. Her first comic was called "Nisaki". This was short for the 3 main characters Nikimi, Sango and Kira. This comic was completely drawn in pencil. Later on she discovered Adobe Photoshop and slowly learned more and more of the program and gained more skills. It especially improved after getting a pen tablet. Nowadays she mainly draws animals using a Wacom tablet and still doing her best to improve her skills. Other than drawing she likes to play games and she's crazy about animals Art of Nym joined Society6 on June 14, 2013
More
Linda Visser was born in 1988 in Hoogkarspel, The Netherlands. At the age of 15 she started drawing manga styles characters. Soon she began to like drawing comics. Her first comic was called "Nisaki". This was short for the 3 main characters Nikimi, Sango and Kira. This comic was completely drawn in pencil.
Later on she discovered Adobe Photoshop and slowly learned more and more of the program and gained more skills. It especially improved after getting a pen tablet.
Nowadays she mainly draws animals using a Wacom tablet and still doing her best to improve her skills. Other than drawing she likes to play games and she's crazy about animals
Art of Nym joined Society6 on June 14, 2013.