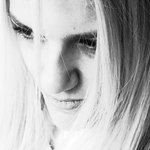 art LILY
Lily Haralabidou is a self taught artist based in Greece. Since she was a young girl drawing and painting was a passion and she would find her self painting every day for hours. After graduating from school she took various art lessons and most people expected she would study Arts but she studied Graphic Design and she continued her artistic passion as a self-taught. She is a full time artist promoting her work mostly online and she mainly paints detailed animal figures against one background colour which deepens the image, intensifies the contrast and creates an emptiness that is at the same time attractive and repelling and portraits using simple images coupled with abstract color or detail creating emotional paintings. Her pieces are captivating and serene. Moments, movements and emotions, captured on canvas. art LILY joined Society6 on July 27, 2014
More
Lily Haralabidou is a self taught artist based in Greece. Since she was a young girl drawing and painting was a passion and she would find her self painting every day for hours. After graduating from school she took various art lessons and most people expected she would study Arts but she studied Graphic Design and she continued her artistic passion as a self-taught.
She is a full time artist promoting her work mostly online and she mainly paints detailed animal figures against one background colour which deepens the image, intensifies the contrast and creates an emptiness that is at the same time attractive and repelling and portraits using simple images coupled with abstract color or detail creating emotional paintings.
Her pieces are captivating and serene. Moments, movements and emotions, captured on canvas.
art LILY joined Society6 on July 27, 2014.