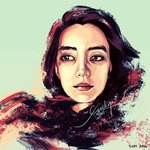 Linarts
19. Self taught. Canada. I love watercolour and digital art. I've been drawing since I was a kid. Right now, I'm focusing on expressing emotion though my art using colour. Still trying to find my style. For peeks into my personal life and works in progress, see my instagram: www.instagram.com/caro.linarts If you're interested in a commission, or if you have any questions, please email me at ca2li@edu.uwaterloo.ca Linarts joined Society6 on November 18, 2015
More
Self taught. Canada. I love watercolour and digital art. I've been drawing since I was a kid. Right now, I'm focusing on expressing emotion though my art using colour. Still trying to find my style.
For peeks into my personal life and works in progress, see my instagram: www.instagram.com/caro.linarts
If you're interested in a commission, or if you have any questions, please email me at ca2li@edu.uwaterloo.ca
Linarts joined Society6 on November 18, 2015.