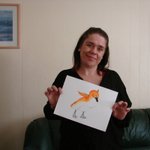 Linda Ursin - Mythical Artist
I'm an Art Witch, a mythical artist, photographer, designer based in the Norwegian mountains. The witch part is both about my spirituality and because I do artwork that is connected to magic, myth, an folklore (for example amulet art, mythological landscapes and creatures, and creatures from folklore). I let my intuition guide my choices of subject matter and materials. My imagery is often inspired by mythology, folklore, and the Scandinavian landscape. I paint in acrylics, watercolour and gouache and draw in pencil and coloured pencil. Linda Ursin - Mythical Artist joined Society6 on November 24, 2014
More
I'm an Art Witch, a mythical artist, photographer, designer based in the Norwegian mountains. The witch part is both about my spirituality and because I do artwork that is connected to magic, myth, an folklore (for example amulet art, mythological landscapes and creatures, and creatures from folklore).
I let my intuition guide my choices of subject matter and materials. My imagery is often inspired by mythology, folklore, and the Scandinavian landscape. I paint in acrylics, watercolour and gouache and draw in pencil and coloured pencil.
Linda Ursin - Mythical Artist joined Society6 on November 24, 2014.