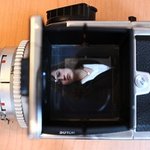 Lindsay Blair Brown
Every building has a story. Every roadway is a character. I love documenting people's lives by photographing their past and present environments. My favorite explorations take me to from crumbling abandoned workplaces to bustling cityscapes. To capture this, I use film photography. The beauty of film is its ability to completely record the image within an instant. Film produces a fascinating, unaltered view. The negatives for these photographs have an organic quality — you, the audience, can see exactly what I saw. Lindsay Blair Brown joined Society6 on March 23, 2012
More
Every building has a story. Every roadway is a character. I love documenting people's lives by photographing their past and present environments. My favorite explorations take me to from crumbling abandoned workplaces to bustling cityscapes.
To capture this, I use film photography. The beauty of film is its ability to completely record the image within an instant. Film produces a fascinating, unaltered view. The negatives for these photographs have an organic quality — you, the audience, can see exactly what I saw.
Lindsay Blair Brown joined Society6 on March 23, 2012.
Lindsay Blair Brown's Store
36 results
Filter