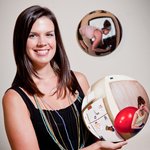 Lindsay Larremore Craige
Website: http://lindsaylarremore.com/
Facebook: https://www.facebook.com/pages/Lindsay-Larremore-Craige-Fine-Art/184057114959083?ref=aymt_homepage_panel
Artist Bio:
In 2011, Lindsay received her BFA in studio art (after receiving an interior design degree in 2006) from Oklahoma State University. She has studied painting & drawing in Italy & New Mexico. Lindsay has received numerous scholarships & awards including the Outstanding Senior Award from OSU's art department, a Viewer's Choice award from the juried exhibition Momentum in Tulsa, OK, as well as receiving the Wilham House Award in Stillwater, OK. She has been featured in publications such as the August 2012 issue of Tulsa People. She has recently shown in a group international exhibition in Boston & continues to work on her oil paintings & dog portrait commissions in Tulsa.
Statement:
I focus on a series of voyeuristic oil paintings of a mundane private life where the viewer becomes the voyeur. In my series of 'peepholes', I focus on a young woman (using myself) or a dog in one particular living space to help convey that this is a life being spied on. I enjoy the fact that these innocent scenes cause unease in some viewers' eyes while others may relate to them. I like to play with the gray area of privacy. We may not realize that what we are doing may seem strange. To further this idea, the paintings are painted on round wood panels to emulate a peephole.
I also capture memories of four-legged friends through my series of custom dog portraits.
Read more
Lindsay Larremore Craige's Store
Filter