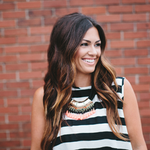 Lindsay Russo
My name is Lindsay, I'm married to the love of my life and I'm a mama to 2 boys. In 2010 my husband and I founded Angel House -- a non-profit that builds orphanages for abandoned children all across India. Buy any Special Edition "Bring Them Home" design from my collection and 100% of the proceeds goes toward our 2015 orphanage projects! Learn more at www.AngelHouse.me. Thanks for stopping by! Lindsay Russo joined Society6 on October 2, 2014
More
My name is Lindsay, I'm married to the love of my life and I'm a mama to 2 boys.
In 2010 my husband and I founded Angel House -- a non-profit that builds orphanages for abandoned children all across India. Buy any Special Edition "Bring Them Home" design from my collection and 100% of the proceeds goes toward our 2015 orphanage projects! Learn more at www.AngelHouse.me.
Thanks for stopping by!
Lindsay Russo joined Society6 on October 2, 2014.