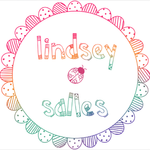 lindsey salles
Hello! I am an illustrator currently located in Savannah, Ga. My passions include drawing, collaging, puppies, kitties, and anything vintage. When I'm not drawing, I am thrifting or going through my grandma's pictures. My work is mostly digital collage with a focus on patterns and textures. I love to illustrate for children, whether it be books, posters, raincoats, playing cards...you name it, I will do it and love it! check out my website at www.lindseysalles.com!! lindsey salles joined Society6 on June 7, 2012
More
Hello! I am an illustrator currently located in Savannah, Ga. My passions include drawing, collaging, puppies, kitties, and anything vintage. When I'm not drawing, I am thrifting or going through my grandma's pictures. My work is mostly digital collage with a focus on patterns and textures. I love to illustrate for children, whether it be books, posters, raincoats, playing cards...you name it, I will do it and love it!
check out my website at www.lindseysalles.com!!
lindsey salles joined Society6 on June 7, 2012.