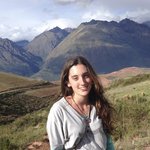 [Linley]
I have spent most of my life in California, both by the southern ocean, and in the wild, green north. I have also spent a year living in Peru, and traveling in South America. I find meaning and inspiration from history, myth, and most of all the natural world. As a Berkeley student, I studied Ancient Civilizations and Art. Now, in addition to my art, I work as a horse trainer, and equestrian teacher. I create adult coloring pages, book illustrations, as well as logos and icons. I also do commissions; digital portraits, character sketches and concept designs. Please contact me if you have a vision you would like brought to life! [Linley] joined Society6 on April 14, 2014
More
I have spent most of my life in California, both by the southern ocean, and in the wild, green north. I have also spent a year living in Peru, and traveling in South America.
I find meaning and inspiration from history, myth, and most of all the natural world. As a Berkeley student, I studied Ancient Civilizations and Art. Now, in addition to my art, I work as a horse trainer, and equestrian teacher.
I create adult coloring pages, book illustrations, as well as logos and icons. I also do commissions; digital portraits, character sketches and concept designs. Please contact me if you have a vision you would like brought to life!
[Linley] joined Society6 on April 14, 2014.