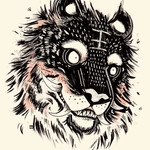 Shirley Jackson
Hi there! My name is Shirley Jackson and I'm a freelance illustrator. I love animals, and I sure do love drawing them. I admire original work and concepts. I like to create illustrations that captivate the imagination. Design is more than pretty pictures, and composing words with images-- it's also about being responsible for what you create and put into this world. Own, love, and believe in what you create. Feel free to email me here: shirley [at] lioninthetrees [dot] com View my portfolio here: http://lioninthetrees.com/ You can follow me on tumblr, twitter, instagram, facebook:@ lioninthetrees For my hand screen-printed prints head over to my etsy: etsy.com/shop/lioninthetrees.com Shirley Jackson joined Society6 on August 2, 2014
More
Hi there! My name is Shirley Jackson and I'm a freelance illustrator. I love animals, and I sure do love drawing them.
I admire original work and concepts. I like to create illustrations that captivate the imagination. Design is more than pretty pictures, and composing words with images-- it's also about being responsible for what you create and put into this world.
Own, love, and believe in what you create.
Feel free to email me here: shirley [at] lioninthetrees [dot] com
View my portfolio here: http://lioninthetrees.com/
You can follow me on tumblr, twitter, instagram, facebook:@ lioninthetrees
For my hand screen-printed prints head over to my etsy: etsy.com/shop/lioninthetrees.com
Shirley Jackson joined Society6 on August 2, 2014.