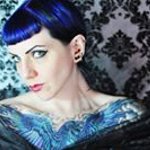 Maika Keuben
I'm a photographer based in Portland, OR, where I've lived since 2011. Before that I spent 11 years living in Seattle, WA. I was born in Amsterdam and grew up in Chicago, but the PNW has always felt like home. I take photos using Holga, Diana, and Pouva Start cameras (I also shoot wildlife photos using a Nikon d90). I've long been fascinated by the marvelous photos from the Pictorialism movement of the late 19th and early 20th centuries. Certain photographers began to use their cameras as an artist's tool; to create personal expressions of visual beauty instead of simply documenting exactly what they saw. To me the images they created feel less like photographs than like glimpses of other people's dreams. The simple and sometimes flawed designs of the plastic cameras that I use, combined with a variety of medium format films (often expired), enable me to create images that also feel dreamlike. But in this case, those dreams are mine. http://analogvisions.tumblr.com http://www.instagram.com/liquidnight Maika Keuben joined Society6 on December 23, 2014
More
I'm a photographer based in Portland, OR, where I've lived since 2011. Before that I spent 11 years living in Seattle, WA. I was born in Amsterdam and grew up in Chicago, but the PNW has always felt like home. I take photos using Holga, Diana, and Pouva Start cameras (I also shoot wildlife photos using a Nikon d90). I've long been fascinated by the marvelous photos from the Pictorialism movement of the late 19th and early 20th centuries. Certain photographers began to use their cameras as an artist's tool; to create personal expressions of visual beauty instead of simply documenting exactly what they saw. To me the images they created feel less like photographs than like glimpses of other people's dreams. The simple and sometimes flawed designs of the plastic cameras that I use, combined with a variety of medium format films (often expired), enable me to create images that also feel dreamlike. But in this case, those dreams are mine.
http://analogvisions.tumblr.com
http://www.instagram.com/liquidnight
Maika Keuben joined Society6 on December 23, 2014.
Maika Keuben's Store
159 results
Filter