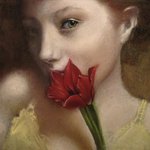 Lirely
The gaze is the most powerful tool of nonverbal communication; it holds our essence and our identity. There are captivating gazes, with such an intense expression that it is hard to break free, and I try to capture that on paper. www.facebook.com/lirely.art www.instagram.com/lirely.art @lirely.art Lirely joined Society6 on June 17, 2017
More
The gaze is the most powerful tool of nonverbal communication; it holds our essence and our identity. There are captivating gazes, with such an intense expression that it is hard to break free, and I try to capture that on paper.
www.facebook.com/lirely.art www.instagram.com/lirely.art
@lirely.art
Lirely joined Society6 on June 17, 2017.