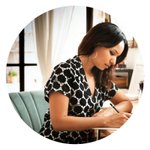 Liron Harat Art
Hi! my name is Liron, I'm a pop-surrealism artist, animal & nature lover and a potential crazy cat lady. I believe life is magical and do my best to express that in my art. All of my drawings are original & hand made. For special requests email me - studio@lironharat.com Hope y'all find here something that can bring beauty to you place & heart :-) Let's get Social- https://www.instagram.com/lironharat/ website: www.lironharat.com Liron Harat Art joined Society6 on November 14, 2017
More
Hi! my name is Liron, I'm a pop-surrealism artist, animal & nature lover and a potential crazy cat lady. I believe life is magical and do my best to express that in my art.
All of my drawings are original & hand made. For special requests email me - studio@lironharat.com
Hope y'all find here something that can bring beauty to you place & heart :-)
Let's get Social- https://www.instagram.com/lironharat/
website: www.lironharat.com
Liron Harat Art joined Society6 on November 14, 2017.
Liron Harat Art's Store
27 results
Filter