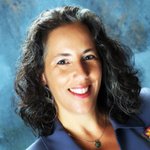 LisaBeth Weber
New Hope, Pennsylvania artist, writer, musician, and consultant LisaBeth Weber is a modern day Renaissance woman. Her array of work involves art, songwriting, performing, film production, business writing, marketing, and much more. Most recently, LisaBeth was the Production Supervisor and Press & Media rep on an independent feature film called, THE NORTH STAR, starring former Philadelphia Eagles football player, Jeremiah Trotter (www.thenorthstarmovie.com), John Diehl, and Keith David. She is also known for her popular and unique handmade CAUSE PINS that have been seen on the lapels of Hillary Clinton, Gloria Steinem, Madeleine Albright, Rosalyn Carter, Mia Farrow, Blair Underwood, and many more. In 2008, LisaBeth was selected by the office of Congressman Patrick Murphy to create an ornament for the WHITE HOUSE CHRISTMAS TREE, and she was invited to the White House for an artist reception. Her freelance writing work has included magazine articles, copywriting, and web content. She was a Theater Manager in her 6th year at the 2011 SUNDANCE FILM FESTIVAL, was a guest blogger from Sundance for nbcphiladelphia.com, and has worked in Filmmaker Guest Services at the Philadelphia Film Festival since 2002. LisaBeth helps people creatively market their business via www.creativebizhub.com and is expanding the scope of her work into offering speaking presentations. LisaBeth also serves on the Board of Directors of the Women's Business Forum and is a cancer survivor. Her latest CD, THE FIRE TOWER SESSIONS, was produced and engineered by Grammy maker, BIL VORNDICK (Ralph Stanley, Bela Fleck, Alison Krauss). She has opened for Nanci Griffith, Ralph Stanley, Dave Grisman, Roy Clark, and over 50 others, along with having two songs featured on NPR's CARTALK. LisaBeth has completed four walking marathons for the Leukemia/Lymphoma Society, and has spent time doing volunteer writing for the National Search Dog Foundation. She is also an illustrator and photographer, and has her own font with the INTERNATIONAL TYPEFACE CORPORATION, called ITC "weber hand", which can be seen at www.fonts.com. Article featuring LisaBeth's work: http://www.phillyburbs.com/news/local/money/a-creative-approach/article_b41567d0-51e0-51e8-bf6d-aaac2a90a193.html Article by LisaBeth about Sundance 2011: http://www.renewtheaters.org/blog/2011/being-elmo-the-flaw-and-sing-your-song-a-walk-through-the-films-and-festival-that-was-sundance-2011 www.lisabethweber.com www.creativebizhub.com www.facebook.com/lisabethweber www.twitter.com/lisabethweber wwwyoutube.com/lisabethweber LisaBeth Weber joined Society6 on October 25, 2012
More
New Hope, Pennsylvania artist, writer, musician, and consultant LisaBeth Weber is a modern day Renaissance woman. Her array of work involves art, songwriting, performing, film production, business writing, marketing, and much more. Most recently, LisaBeth was the Production Supervisor and Press & Media rep on an independent feature film called, THE NORTH STAR, starring former Philadelphia Eagles football player, Jeremiah Trotter (www.thenorthstarmovie.com), John Diehl, and Keith David. She is also known for her popular and unique handmade CAUSE PINS that have been seen on the lapels of Hillary Clinton, Gloria Steinem, Madeleine Albright, Rosalyn Carter, Mia Farrow, Blair Underwood, and many more. In 2008, LisaBeth was selected by the office of Congressman Patrick Murphy to create an ornament for the WHITE HOUSE CHRISTMAS TREE, and she was invited to the White House for an artist reception. Her freelance writing work has included magazine articles, copywriting, and web content. She was a Theater Manager in her 6th year at the 2011 SUNDANCE FILM FESTIVAL, was a guest blogger from Sundance for nbcphiladelphia.com, and has worked in Filmmaker Guest Services at the Philadelphia Film Festival since 2002. LisaBeth helps people creatively market their business via www.creativebizhub.com and is expanding the scope of her work into offering speaking presentations. LisaBeth also serves on the Board of Directors of the Women's Business Forum and is a cancer survivor. Her latest CD, THE FIRE TOWER SESSIONS, was produced and engineered by Grammy maker, BIL VORNDICK (Ralph Stanley, Bela Fleck, Alison Krauss). She has opened for Nanci Griffith, Ralph Stanley, Dave Grisman, Roy Clark, and over 50 others, along with having two songs featured on NPR's CARTALK. LisaBeth has completed four walking marathons for the Leukemia/Lymphoma Society, and has spent time doing volunteer writing for the National Search Dog Foundation. She is also an illustrator and photographer, and has her own font with the INTERNATIONAL TYPEFACE CORPORATION, called ITC "weber hand", which can be seen at www.fonts.com.
Article featuring LisaBeth's work:
http://www.phillyburbs.com/news/local/money/a-creative-approach/article_b41567d0-51e0-51e8-bf6d-aaac2a90a193.html
Article by LisaBeth about Sundance 2011: http://www.renewtheaters.org/blog/2011/being-elmo-the-flaw-and-sing-your-song-a-walk-through-the-films-and-festival-that-was-sundance-2011
www.lisabethweber.com www.creativebizhub.com www.facebook.com/lisabethweber www.twitter.com/lisabethweber wwwyoutube.com/lisabethweber
LisaBeth Weber joined Society6 on October 25, 2012.
Canvas by LisaBeth Weber
2 result
Filter