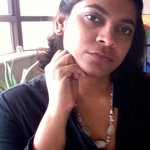 Jumbie Works
Jumbie Works represents the creative works of the artist / designer Lisa Rajkumar-Maharaj. To me, the experience of creating original Art is akin to being swallowed up by an ocean of inspirational vision. In the Caribbean, the term 'jumbie' is used to describe a ghost or spirit. For these reasons, I create my work under the umbrella Jumbie Works as an allusion to my Caribbean heritage and as a description of my creative experience. Jumbie Works joined Society6 on February 4, 2014
More
Jumbie Works represents the creative works of the artist / designer Lisa Rajkumar-Maharaj.
To me, the experience of creating original Art is akin to being swallowed up by an ocean of inspirational vision. In the Caribbean, the term 'jumbie' is used to describe a ghost or spirit. For these reasons, I create my work under the umbrella Jumbie Works as an allusion to my Caribbean heritage and as a description of my creative experience.
Jumbie Works joined Society6 on February 4, 2014.
Jumbie Works's Store
23 results
Filter