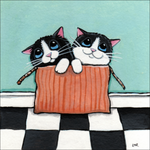 Lisa Marie Robinson
Hi! I'm an artist & illustrator living in the North East of England, UK. I love animals and nature and although I love to paint with traditional mediums like acrylics and watercolours, I also like to dabble with vector illustration, digital painting, and surface pattern. Depending on my mood my artwork can range from whimsical and cute illustrations ideal for kids to more realistic paintings. I love to paint miniature artworks, like ACEO and ATC, and my popular It's A Cat's Life series of ACEO paintings are in personal collections across the globe. As well as selling my original illustrations and paintings via ebay you can also purchase my work via the "Penny Hedge Originals Gallery" at Whitby Galleries (134-135 Church Street, Whitby, North Yorkshire, YO22 4DE, UK) Website: http://lisa-marieart.com Lisa Marie Robinson joined Society6 on January 23, 2014
More
Hi! I'm an artist & illustrator living in the North East of England, UK. I love animals and nature and although I love to paint with traditional mediums like acrylics and watercolours, I also like to dabble with vector illustration, digital painting, and surface pattern.
Depending on my mood my artwork can range from whimsical and cute illustrations ideal for kids to more realistic paintings.
I love to paint miniature artworks, like ACEO and ATC, and my popular It's A Cat's Life series of ACEO paintings are in personal collections across the globe.
As well as selling my original illustrations and paintings via ebay you can also purchase my work via the "Penny Hedge Originals Gallery" at Whitby Galleries (134-135 Church Street, Whitby, North Yorkshire, YO22 4DE, UK)
Website: http://lisa-marieart.com
Lisa Marie Robinson joined Society6 on January 23, 2014.