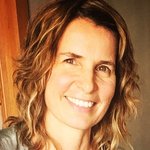 LisaPollard
Lisa is a Yoga and Meditation Teacher with more than 29 years of self practice and teaching experience, in educational, corporate, medical and organisational settings. She has been facilitating 8-week Mindfulness-based interventions since 2007, including MBSR, MB-Stillness Meditation and MB-Restorative Yoga.
Lisa feels Yoga is an embodied organic practice that explores the interconnectedness of movement and stillness, in the spirit of self-care. Her openhearted approach to teaching creates a warm inviting space to discover the joys of these mind-body practices.
Lisa is particularly interested in the effects of restorative yoga and its application in supporting wellness and reducing stress and anxiety. She teaches weekly yoga and meditation classes and has a private practice working therapeutically with adults and couples. This works includes 8-week interventions, individual self-practice, yoga mentoring and consulting. Lisa has trained in the applications of mindfulness in clinical settings, including MiCBT and Advanced Training in ACT.
Lisa is also a visual artist, who has been exhibiting her paintings since 2000, she loves photograpghy, travel and surfing. Lisa has two young children and enjoys living in the community of Newcastle.
Free App Lisa Pollard Yoga
Read more
LisaPollard's Store
Filter