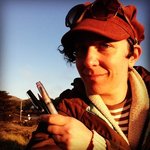 Lisa Sindorf
Born and raised in California, Oakland-based artist Lisa Sindorf has a lifelong fascination with the wildlife and landscapes of her home state. Lisa's artwork ranges from watercolor landscapes to vector bird silhouettes to science comics; she accepts commissions including logo design, commercial illustration, wedding invitations, and other things. Lisa is also an educator and occasionally offers art classes or private lessons. See more of her work at www.lisasindorf.com Lisa Sindorf joined Society6 on March 19, 2016
More
Born and raised in California, Oakland-based artist Lisa Sindorf has a lifelong fascination with the wildlife and landscapes of her home state.
Lisa's artwork ranges from watercolor landscapes to vector bird silhouettes to science comics; she accepts commissions including logo design, commercial illustration, wedding invitations, and other things.
Lisa is also an educator and occasionally offers art classes or private lessons.
See more of her work at www.lisasindorf.com
Lisa Sindorf joined Society6 on March 19, 2016.
Lisa Sindorf's Store
26 results
Filter