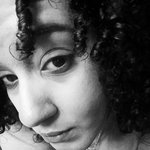 Sabrina
I'm in love with colors, pop culture, classic films, rugged actors, food, laughs, music, and art. Thanks for stopping by and viewing/promoting my art. Later Days! *Check out my shops on TeePublic (https://www.teepublic.com/user/liteybear) and RedBubble: https://www.redbubble.com/people/liteybear15 **My latest designs are always on my instagram account: liteybear15 I'm also on facebook: https://www.facebook.com/liteybear and goggle+ (smwats15) Sabrina joined Society6 on October 5, 2014
More
I'm in love with colors, pop culture, classic films, rugged actors, food, laughs, music, and art. Thanks for stopping by and viewing/promoting my art. Later Days!
*Check out my shops on TeePublic (https://www.teepublic.com/user/liteybear) and RedBubble: https://www.redbubble.com/people/liteybear15
**My latest designs are always on my instagram account: liteybear15 I'm also on facebook: https://www.facebook.com/liteybear and goggle+ (smwats15)
Sabrina joined Society6 on October 5, 2014.