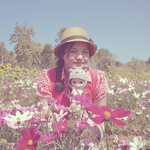 LittleAmelie
My name is PoppyW, I live in Bangkok Thailand. I have my own Publishing company and I am a graphic designer. I'm a doll dress designer. I love to travel and take the photos. I collected Blythe, Licca, BJD and many cute toys and extremely enthusiastic to photo them. "LittleAmelie" started in 2008. It began by the more inspiration of this wonderful Blythe doll. And since then I have been trying to grow, making each outfit better, with more detail and care than the previous one. Each outfit is made with care. I love to photo my dolls. And I hope you enjoy my work! Thank you for your support! LittleAmelie joined Society6 on March 13, 2014
More
My name is PoppyW, I live in Bangkok Thailand. I have my own Publishing company and I am a graphic designer. I'm a doll dress designer. I love to travel and take the photos. I collected Blythe, Licca, BJD and many cute toys and extremely enthusiastic to photo them.
"LittleAmelie" started in 2008. It began by the more inspiration of this wonderful Blythe doll. And since then I have been trying to grow, making each outfit better, with more detail and care than the previous one. Each outfit is made with care.
I love to photo my dolls. And I hope you enjoy my work! Thank you for your support!
LittleAmelie joined Society6 on March 13, 2014.