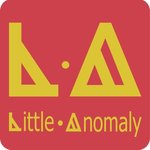 LittleAnomaly
A young Self taught aspiring designer primarily using Adobe Illustrator and Photoshop programs to create his work, but continues to learn and develop his skills using a variety of design and illustration software and mediums. His work is also currently extending in to teaching himself the world of 3d modeling using Zbrush and animation using Maya. He has a background in photography having studied the subject for two years at college, exploring both dark room and analogue techniques, as well as digital photography, lighting techniques and studeo work. LittleAnomaly joined Society6 on November 2, 2013
More
A young Self taught aspiring designer primarily using Adobe Illustrator and Photoshop programs to create his work, but continues to learn and develop his skills using a variety of design and illustration software and mediums. His work is also currently extending in to teaching himself the world of 3d modeling using Zbrush and animation using Maya.
He has a background in photography having studied the subject for two years at college, exploring both dark room and analogue techniques, as well as digital photography, lighting techniques and studeo work.
LittleAnomaly joined Society6 on November 2, 2013.