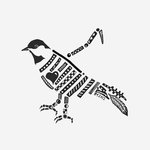 LittleBirds
A little bird I am, Shut from the fields of air, And in my cage I sit and sing To Him who placed me there: Well pleased a prisoner to be, Because, my God, it pleases Thee! 'Naught have I else to do; I sing the whole day long; And He whom most I love to please Doth listen to my song, He caught and bound my wandering wing, But still He bends to hear me sing. Louisa May Alcott LittleBirds joined Society6 on January 27, 2015
More
A little bird I am, Shut from the fields of air, And in my cage I sit and sing To Him who placed me there: Well pleased a prisoner to be, Because, my God, it pleases Thee!
'Naught have I else to do; I sing the whole day long; And He whom most I love to please Doth listen to my song, He caught and bound my wandering wing, But still He bends to hear me sing. Louisa May Alcott
LittleBirds joined Society6 on January 27, 2015.