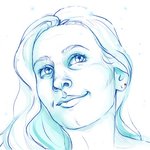 QuietLittleLeaf
I'm Jessy Ross, a young illustrator from Canada that loves roleplaying, video games, sustainability, cosmology, and animals. I graduated in graphic design, but am at heart an illustrator. I strive to bring life and colour to everything I make. My full gallery can be found at www.quietlittleleaf.deviantart.com . Thankyou having an interest in, and enjoying my art!! Feel free to message me if you want to see any specific images, or are interested in commissioning a piece. QuietLittleLeaf joined Society6 on October 12, 2013
More
I'm Jessy Ross, a young illustrator from Canada that loves roleplaying, video games, sustainability, cosmology, and animals. I graduated in graphic design, but am at heart an illustrator. I strive to bring life and colour to everything I make. My full gallery can be found at www.quietlittleleaf.deviantart.com . Thankyou having an interest in, and enjoying my art!!
Feel free to message me if you want to see any specific images, or are interested in commissioning a piece.
QuietLittleLeaf joined Society6 on October 12, 2013.