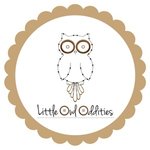 Little Owl Oddities
I am a illustrator who uses different scanned in watchparts to create my illustrations to give them a vintage and unique style. I also have other work available to buy on my two different Society6 stores. One is another store for my Illustration work and the other is for my Vintage Photography work. You can find my Illustration work on - http://society6.com/AmbersIllustration You can find my Vintage Photography work on - http://society6.com/AmbersVintageFind My Illustration artwork and Vintage Photography is for sale as a variety of products such as (art prints, framed art prints, stretched canvas, stationary cards, iphone and ipod cases, ipad cases, ipad/ipod/laptop and iphone skins, t - shirts, tank tops, hoodies, kids t-shirts, onesies, rugs, biker tank tops, shower curtains, throw pillows, mugs and tote bags). Twitter - https://twitter.com/LitlOwlOddities/ Facebook - https://www.facebook.com/LittleOwlOddities/ Instagram - http://instagram.com/littleowloddities# Pinterest - http://www.pinterest.com/LittleOwlOddity/ Tumblr - http://littleowloddities.tumblr.com/ Blogger - http://littleowloddities.blogspot.co.uk/ Little Owl Oddities joined Society6 on July 11, 2014
More
I am a illustrator who uses different scanned in watchparts to create my illustrations to give them a vintage and unique style.
I also have other work available to buy on my two different Society6 stores. One is another store for my Illustration work and the other is for my Vintage Photography work.
You can find my Illustration work on - http://society6.com/AmbersIllustration
You can find my Vintage Photography work on - http://society6.com/AmbersVintageFind
My Illustration artwork and Vintage Photography is for sale as a variety of products such as (art prints, framed art prints, stretched canvas, stationary cards, iphone and ipod cases, ipad cases, ipad/ipod/laptop and iphone skins, t - shirts, tank tops, hoodies, kids t-shirts, onesies, rugs, biker tank tops, shower curtains, throw pillows, mugs and tote bags).
Twitter - https://twitter.com/LitlOwlOddities/
Facebook - https://www.facebook.com/LittleOwlOddities/
Instagram - http://instagram.com/littleowloddities#
Pinterest - http://www.pinterest.com/LittleOwlOddity/
Tumblr - http://littleowloddities.tumblr.com/
Blogger - http://littleowloddities.blogspot.co.uk/
Little Owl Oddities joined Society6 on July 11, 2014.