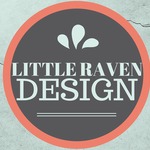 Little Raven Design
When mum passed away in 1999, I was not quite 25. I had so much more to share with her, to show her. To be with her. I had always drawn, always written, and she encouraged me to do something with it all. I didn't. When I got sick just a couple of years ago, I had to spend 5 months in hospital and home, and found myself floundering for things to do. Things I could physically do. I had to have help to get out of bed, let alone walk around without a walking frame. Late at night, I found it hard to sleep. I had either slept during the day, or I was in too much pain. So I got on the ipad and searched for things. Home decorating ideas for when I was better....work ideas for when I went back...and family history. When I googled the origin of mums name: "Brenda is an Irish girls name. Its meaning is little raven" I knew exactly what I was going to do. That night I picked up my pencils for the first time in years, and I drew. And I drew. At that moment, on that night, my mum saved me. She saved me from giving up. She saved me from the desperation just to be myself I was going through. From the other side, she ignited a passion and fire within me, that to this day, burns just as bright. Now I know that through each stroke of the pencil, each wash of a brush, she is there. And this is for her. (p.s. my absolutely amazing family and beautiful partner helped me through a really difficult time ~ being so sick. And while Little Raven is named for, and after mum, all of these people make me who I am....and helped me re-stand when I couldn't on my own.) Little Raven Design joined Society6 on February 12, 2014
More
When mum passed away in 1999, I was not quite 25. I had so much more to share with her, to show her. To be with her. I had always drawn, always written, and she encouraged me to do something with it all. I didn't.
When I got sick just a couple of years ago, I had to spend 5 months in hospital and home, and found myself floundering for things to do. Things I could physically do. I had to have help to get out of bed, let alone walk around without a walking frame.
Late at night, I found it hard to sleep. I had either slept during the day, or I was in too much pain. So I got on the ipad and searched for things. Home decorating ideas for when I was better....work ideas for when I went back...and family history. When I googled the origin of mums name:
"Brenda is an Irish girls name. Its meaning is little raven"
I knew exactly what I was going to do. That night I picked up my pencils for the first time in years, and I drew. And I drew.
At that moment, on that night, my mum saved me. She saved me from giving up. She saved me from the desperation just to be myself I was going through. From the other side, she ignited a passion and fire within me, that to this day, burns just as bright.
Now I know that through each stroke of the pencil, each wash of a brush, she is there. And this is for her.
(p.s. my absolutely amazing family and beautiful partner helped me through a really difficult time ~ being so sick. And while Little Raven is named for, and after mum, all of these people make me who I am....and helped me re-stand when I couldn't on my own.)
Little Raven Design joined Society6 on February 12, 2014.
Little Raven Design's Store
26 results
Filter