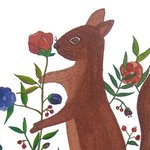 Little Squirrel Art
Welcome! My name is Eva and I'm from Bali, Indonesia but currently residing in Singapore with my husband and our baby boy. Always been passionate about craft and art, it's my huge pleasure to be able to share my works with you. I keep a personal blog at www.evajovita.com where you can take a peek into our life and of course the story behind each art piece. Little Squirrel Art joined Society6 on April 22, 2014
More
Welcome!
My name is Eva and I'm from Bali, Indonesia but currently residing in Singapore with my husband and our baby boy. Always been passionate about craft and art, it's my huge pleasure to be able to share my works with you.
I keep a personal blog at www.evajovita.com where you can take a peek into our life and of course the story behind each art piece.
Little Squirrel Art joined Society6 on April 22, 2014.
Little Squirrel Art's Store
11 results
Filter