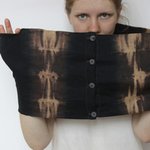 Liucija Dervinyte
I am a Lithuanian textile artist, designer and maker currently based in Mexico. In 2012 I graduated from Edinburgh College of Art. After the graduation I moved to Amsterdam for a couple of months, where I got inspired for new creations and art projects. My creative ideas are born while exploring the cities, going for long walks, looking for surrounding details in nature, architecture and everywhere else. I am inspired by lights and shadows, layers, bright accents and subtle tones. I appreciate the possibilities that every art technique and material has to offer, therefore I try to learn new ways of expressing ideas. It could be watercolour, laser cutting, screen printing, photography or video. I am excited to try every new thing that visits my mind. I create challenges and big goals for the future, this is how I keep myself creative. I am a designer and maker. If you are interested to see my handmade products please visit this link: https://www.etsy.com/shop/LiucijaTextiles Liucija Dervinyte joined Society6 on May 24, 2014
More
I am a Lithuanian textile artist, designer and maker currently based in Mexico. In 2012 I graduated from Edinburgh College of Art. After the graduation I moved to Amsterdam for a couple of months, where I got inspired for new creations and art projects.
My creative ideas are born while exploring the cities, going for long walks, looking for surrounding details in nature, architecture and everywhere else. I am inspired by lights and shadows, layers, bright accents and subtle tones. I appreciate the possibilities that every art technique and material has to offer, therefore I try to learn new ways of expressing ideas. It could be watercolour, laser cutting, screen printing, photography or video. I am excited to try every new thing that visits my mind. I create challenges and big goals for the future, this is how I keep myself creative.
I am a designer and maker. If you are interested to see my handmade products please visit this link: https://www.etsy.com/shop/LiucijaTextiles
Liucija Dervinyte joined Society6 on May 24, 2014.