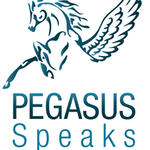 Pegasus Speaks Designs
Thank you for visiting Pegasus Speaks Designs -- my online store and home of the "Wear the Word, Spread the Light"™ t-shirt line.
I grew up the middle of seven children in Milwaukee, WI, then moved to the Washington, D.C. area where I spent the second half of my life. I have lived full-time in a 41-foot diesel pusher named "Pegasus" since May 2013. You can follow me on my blog, PegasusSpeaks.com.
Long a writer, I started creating visual designs in 2016. I hope you love what you see. But even more, I hope you join me and others around the world in spreading the energy of Peace, Love, and Understanding.
With Love and Thanks.
Liz Carmel
Read more
Pegasus Speaks Designs's Store
Filter