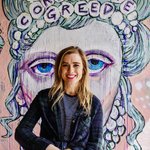 Liz Haywood
The Abstract Expressionism and Pop Art movements have been the two most influential movements in my development as an artist. Lately I have been inspired by French Graffiti Artist JM Robert and hilarious female Pop Art creator, Ashley Longshore. Both combine elements from my two favorite movements. JM Robert puts down emotive Rothko-like colors before overlaying black outlines of glam female forms that are sometimes reminiscent of Lichtenstein. Ashley Longshore reminds me of Andy Warhol all the way! She also loves to get down and dirty with paint splatters like Pollock. Two final two artists who's work I have devoured over the years I'm drawn to purely from a gut reaction: Tara McPherson and Mark Ryden.
Because painting is my favorite thing to do and think about, I have been enrolled in art classes since childhood. At Appalachian State I minored in Studio Art and studied Renaissance Art at the Italian Courts abroad at Lorenzo de Medici in Florence. In the end, I made what I thought was a practical choice by majoring in Communication. After graduation, I attended The Portfolio Center here in Atlanta where I graduated with a dual concentration of design and illustration. I then launched myself as a professional artist and designer by moving to Brooklyn. Over my seven years in New York, I drifted more into Graphic Design and away from purely pursuing art. Now, I am working hard on a course correction, to refocus on becoming a contributing part of the Atlanta art community.
My artistic philosophy can be summarized as: Do what you feel, do what you love, then share it. When I am lucky enough to have a large blank wall in front of me I like to sit and enjoy the limitless possibilities of it's emptiness. To me, this is one of the best parts of the journey in creating Public Art. I have imagined art all over this city that I can't wait to bring to life. When I begin a mural I start by roughly sketch out large shapes with an acrylic pen. After that, I block in the colors with spray paint. Then, I use a mixture of h2o and exterior house paint to add layers of translucent paint for texture and depth. I let this watery paint drip where desired and swiftly wipe it away from where it's not. I use thicker undiluted exterior house paint in where I want a more opaque coverage.
I want to share all the energy and passion I feel while painting with the community through public art projects. I hope to create emotive and texture rich pieces that will turn a casual glance into a communication of energy as viewers become engaged with my work.
Read more
Liz Haywood's Store
Filter