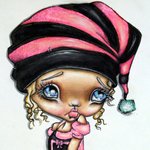 Lizzy Love
www.oddballartco.com www.facebook.com/oddballartco @oddballartco I have always loved the stranger, quirkier side of life and nothing brings me more joy then creating exactly that! My art is described as a perfect combination of sweet and sour that glitters up the grunge! As a lover of all things dark, whimsical & ugly cute, I like to throw in some bubblegum Goth with a touch of glam, punk & rockabilly pinup! I have certainly never been a mainstream type of girl and definitely won't fit into your stereotypical cookie cutter artists role. I rather find beauty in the truly unique, big eyed creepy little cuties with a bittersweet sadness. I am never truly happier then when I am in my art studio painting or sewing, creating a whimsical dream world easily recognizable as my signature style of creepy yet cute, all the way from the haunting darkness to the rainbowtastic, my creations are lovingly sprinkled with a heartbreaking sweetness. Growing up a child of the 80's, pop rocks princess, with an extreme fondness for anything candy coated, Kawaii Kitten & Ziggy Stardust, all of which had a major influence in the work that I am creating today. I employ many different mediums when I create, anything from painting with acrylics, watercolors and ink to sewing with many different textiles, the end result always being the same; A whimsical dream world filled with big eyed beauties, creepy little cuties and quirky monsters of all shapes and sizes. Lizzy Love joined Society6 on October 18, 2012
More
www.oddballartco.com www.facebook.com/oddballartco @oddballartco
I have always loved the stranger, quirkier side of life and nothing brings me more joy then creating exactly that! My art is described as a perfect combination of sweet and sour that glitters up the grunge! As a lover of all things dark, whimsical & ugly cute, I like to throw in some bubblegum Goth with a touch of glam, punk & rockabilly pinup!
I have certainly never been a mainstream type of girl and definitely won't fit into your stereotypical cookie cutter artists role. I rather find beauty in the truly unique, big eyed creepy little cuties with a bittersweet sadness. I am never truly happier then when I am in my art studio painting or sewing, creating a whimsical dream world easily recognizable as my signature style of creepy yet cute, all the way from the haunting darkness to the rainbowtastic, my creations are lovingly sprinkled with a heartbreaking sweetness.
Growing up a child of the 80's, pop rocks princess, with an extreme fondness for anything candy coated, Kawaii Kitten & Ziggy Stardust, all of which had a major influence in the work that I am creating today. I employ many different mediums when I create, anything from painting with acrylics, watercolors and ink to sewing with many different textiles, the end result always being the same; A whimsical dream world filled with big eyed beauties, creepy little cuties and quirky monsters of all shapes and sizes.
Lizzy Love joined Society6 on October 18, 2012.