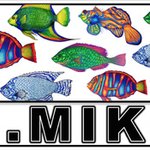 LMIKO
Welcome! My name is Lauren and I am a New Jersey native currently residing in Hoboken. I studied Design & Merchandising at Drexel University in Philadelphia developing my technique in figure drawing, painting, and illustration. I have illustrated images for D&M Magazine and have designed a number of best selling t-shirt graphics for the iconic American fashion brand, Nautica. I am inspired by nature and have a special affection for the sea as I am fascinated by the unknown. I aim to bring the elusive aquatic creatures that lurk deep below the surface to the forefront of my work. I may be new to the public eye but the passion I put into each piece has been cultivated since I first picked up a colored pencil at 4 years old. Come check out my work and follow me as I embark on what I hope to be a long and successful voyage. LMIKO joined Society6 on November 10, 2016
More
Welcome! My name is Lauren and I am a New Jersey native currently residing in Hoboken. I studied Design & Merchandising at Drexel University in Philadelphia developing my technique in figure drawing, painting, and illustration. I have illustrated images for D&M Magazine and have designed a number of best selling t-shirt graphics for the iconic American fashion brand, Nautica.
I am inspired by nature and have a special affection for the sea as I am fascinated by the unknown. I aim to bring the elusive aquatic creatures that lurk deep below the surface to the forefront of my work.
I may be new to the public eye but the passion I put into each piece has been cultivated since I first picked up a colored pencil at 4 years old. Come check out my work and follow me as I embark on what I hope to be a long and successful voyage.
LMIKO joined Society6 on November 10, 2016.