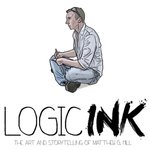 LogicINK
Matthew G. Hill is a multi-media, multi-disciplinary artistic enigma. His work spans from the stages of Europe to the silver screen of Hollywood to the printed page. A storyteller by trade and by heart, Matthew believes in the power of story, and hopes to use it to inspire. Matt has served as an artist-in-residency at both the National Theatre of Croatia and the Getty Villa. He is a member of the Rogue Artists Ensemble, serves as a board member for the advocacy group TheatreChangesThings.org, and teaches design at the University of La Verne. He also co-wrote the 2010 $10,000 Kairos Prize winning script, which was quickly optioned and is currently in pre-production with a major studio. Other career highlights include: art directing the $100,000 prize-winning Amazon test movie "Alchemist Agenda" (currently in development at Warner Brothers), serving as the lead illustrator on "Buffy the Vampire Slayer - Season 8" motion comic, and having his paintings displayed as a part of the TataGala benefit art show. To find out more about Matt, please visit LogicINK.net. LogicINK joined Society6 on September 7, 2013
More
Matthew G. Hill is a multi-media, multi-disciplinary artistic enigma. His work spans from the stages of Europe to the silver screen of Hollywood to the printed page. A storyteller by trade and by heart, Matthew believes in the power of story, and hopes to use it to inspire.
Matt has served as an artist-in-residency at both the National Theatre of Croatia and the Getty Villa. He is a member of the Rogue Artists Ensemble, serves as a board member for the advocacy group TheatreChangesThings.org, and teaches design at the University of La Verne. He also co-wrote the 2010 $10,000 Kairos Prize winning script, which was quickly optioned and is currently in pre-production with a major studio.
Other career highlights include: art directing the $100,000 prize-winning Amazon test movie "Alchemist Agenda" (currently in development at Warner Brothers), serving as the lead illustrator on "Buffy the Vampire Slayer - Season 8" motion comic, and having his paintings displayed as a part of the TataGala benefit art show.
To find out more about Matt, please visit LogicINK.net.
LogicINK joined Society6 on September 7, 2013.