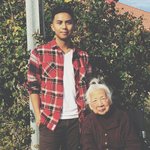 The Lola x Kenneth Collaboration
The Lola x Kenneth Collaboration Check out our video here: http://youtu.be/TVjF6Fptmbs Hello! I'm Kenneth and this my lola ("grandma" in Tagalog). Before my grandma turned 94, I moved back home to help care for her. I wanted to find a way for us to make memories together, so I thought, "Hey, why don't we make some cool stuff?" My grandma makes the paintings. I promise to finish everything she starts. The Lola x Kenneth Collaboration joined Society6 on December 9, 2014
More
The Lola x Kenneth Collaboration
Check out our video here: http://youtu.be/TVjF6Fptmbs
Hello! I'm Kenneth and this my lola ("grandma" in Tagalog). Before my grandma turned 94, I moved back home to help care for her. I wanted to find a way for us to make memories together, so I thought, "Hey, why don't we make some cool stuff?"
My grandma makes the paintings.
I promise to finish everything she starts.
The Lola x Kenneth Collaboration joined Society6 on December 9, 2014.