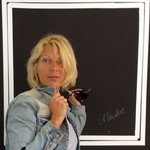 LolMalone
I'm Lorena Lopez Malone I am an artist, I am a painter ... I'm creative I was born in Buenos Aires, Argentina. I lived in many cities until I came to Spain, in the province of Malaga and Mijas found my place in the world. Draw and paint since I can remember. My art education began in the hands of the great master Feliz Gonzalez Mora in Buenos Aires and continued in Spain in the Artium Peña Academy in the heart of Madrid, Plaza Mayor! Things that you can know about me: The sea and the kids my inspiration. My favorite animal: the seagulls Elton .. a very special white boxer. Faithful pet and brand image What all moves: Imagination and smile My family, a brilliant son, a sun and my husband, the most splendid fellow, my loves, my motor. With great enthusiasm, with patience, effort, care and dedication Lol Malone born Child Designs, Art for children with lots of art! ... I request to the latter one detail Malone Lol ... because I am! I like to say that I think small pieces of art for big artists. LolMalone joined Society6 on June 30, 2014
More
I'm Lorena Lopez Malone I am an artist, I am a painter ... I'm creative
I was born in Buenos Aires, Argentina. I lived in many cities until I came to Spain, in the province of Malaga and Mijas found my place in the world. Draw and paint since I can remember. My art education began in the hands of the great master Feliz Gonzalez Mora in Buenos Aires and continued in Spain in the Artium Peña Academy in the heart of Madrid, Plaza Mayor!
Things that you can know about me: The sea and the kids my inspiration. My favorite animal: the seagulls Elton .. a very special white boxer. Faithful pet and brand image What all moves: Imagination and smile My family, a brilliant son, a sun and my husband, the most splendid fellow, my loves, my motor.
With great enthusiasm, with patience, effort, care and dedication Lol Malone born Child Designs, Art for children with lots of art! ... I request to the latter one detail Malone Lol ... because I am! I like to say that I think small pieces of art for big artists.
LolMalone joined Society6 on June 30, 2014.