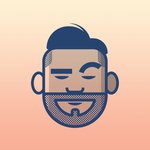 loogart
Loogart is a Montreal-based visual design studio that specializes in illustration, brand identity, small-scale animation and web design.
I call my art: LOOG. Hence, I coined it: Loogart.
As an engineer, I like precision, efficiency and shapes. That is why I use the vector medium. Its lines are perfect and can easily be adjusted. Geometrical shapes can be put together to express an idea or an emotion. How beautiful is that… yah, and I don't really dirty my hands with ink or pastel.
As a musician, I love the tone… the color that a piece of art suggests. This is similar in visual arts. Each color drop in an illustration must come together to create a color palette, which in turns gives the LOOG a general atmosphere.
OK, let's cut to the chase…
Welcome to my Society6 page. I present to you my portfolio in a simple, clean and concise manner. Make sure to LIKE my Facebook page and if you really like my work, purchase one, two, three or even seven LOOGs.
Love my work? You want something custom that will suit your needs? Contact me. I create gifts, magazine illustrations and web graphics.
LOOG your world. www.loogart.com
Read more