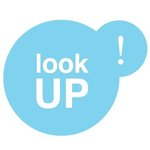 Look Up!
Look Up! is a non-profit cause that brings God's Word to the City of Portland. The guiding verse for Look Up! is "When they looked up, they saw no one but Jesus." Matthew 17:8
Why? Because Portland is filled with gray skies, pessimism, rebellion, negativity, sadness, and overall brokenness. Just take a walk through downtown. You won't have to walk far to see how much Portland needs Jesus. The goal of Look Up! is to inspire and inform our city to stop looking to its left and right, to stop abiding by fading influences all around, and to start looking up at Jesus.
How? By bringing God's Word to the people right where they are: to their daily Max ride. In essence, Look Up! places a poster on the ceiling of a number of max trains. Each poster contains a positive message and a link to the web site. If a person looks up and sees a poster, they can visit this web site and read the context of the message they saw. They can also contact us if they have any questions.
When? The first set of posters officially went out on December 15, 2011. A new poster is released on the 15th of every month and will stay up for a minimum of 3 months.
www.youlookedup.org
Read more