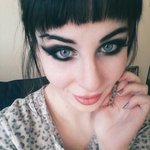 Loretta Keresen
Loretta is a soon-to-be graduate of the Milwaukee Institute of Art and Design, with a major in Time-based media and a minor in Illustration. She likes to create art that is colorful, dynamic and has lots of texture. Contact me at: lorettakeresen@yahoo.com Portfolio: http://cargocollective.com/lorettakeresen Loretta Keresen joined Society6 on January 12, 2015
More
Loretta is a soon-to-be graduate of the Milwaukee Institute of Art and Design, with a major in Time-based media and a minor in Illustration. She likes to create art that is colorful, dynamic and has lots of texture.
Contact me at: lorettakeresen@yahoo.com
Portfolio: http://cargocollective.com/lorettakeresen
Loretta Keresen joined Society6 on January 12, 2015.