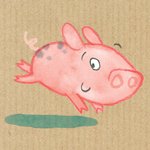 Loretta Schauer
Loretta Schauer is a London based artist who has been working in children's picture books for the past five years. She loves creating characters and telling stories. In 2011, Loretta won the Waterstone's 'Picture This' competition, and her first picture book was published by HarperCollins in 2012. Since then Loretta's illustrations have been published by Little Tiger Press, Parragon and Oxford University Press. Her website is www.lorettaschauer.com and she merrily tweets @Loretta_Schauer and blogs at http://lorettaschauer.tumblr.com/ where she shares new work. She is represented by Literary agent Clare Wallace at Darley Anderson for children's publishing enquiries. Loretta Schauer joined Society6 on August 28, 2015
More
Loretta Schauer is a London based artist who has been working in children's picture books for the past five years. She loves creating characters and telling stories.
In 2011, Loretta won the Waterstone's 'Picture This' competition, and her first picture book was published by HarperCollins in 2012. Since then Loretta's illustrations have been published by Little Tiger Press, Parragon and Oxford University Press.
Her website is www.lorettaschauer.com and she merrily tweets @Loretta_Schauer and blogs at http://lorettaschauer.tumblr.com/ where she shares new work.
She is represented by Literary agent Clare Wallace at Darley Anderson for children's publishing enquiries.
Loretta Schauer joined Society6 on August 28, 2015.
Loretta Schauer's Store
40 results
Filter