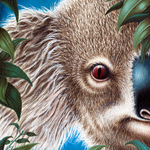 Lorna Mulligan
I am an artist/illustrator and have been drawing since I was knee high to a grasshopper, and though I've dabbled with many different subjects over the years I love drawing wildlife the most. After completing an art & design foundation course, I went on to work for several years in the traditional 2D animation industry on various film and tv commercials. It was during this time that I gained an invaluable wealth of knowledge and experience, which has certainly helped and very much influenced the work I'm producing now. I use various different kinds of media for my artwork, including pencil, acrylic, pen & ink and watercolour. Recently I've got a bit more into digital illustration which is quite fun and cartoony. Website: www.lornamulligan.co.uk Lorna Mulligan joined Society6 on July 11, 2014
More
I am an artist/illustrator and have been drawing since I was knee high to a grasshopper, and though I've dabbled with many different subjects over the years I love drawing wildlife the most. After completing an art & design foundation course, I went on to work for several years in the traditional 2D animation industry on various film and tv commercials. It was during this time that I gained an invaluable wealth of knowledge and experience, which has certainly helped and very much influenced the work I'm producing now.
I use various different kinds of media for my artwork, including pencil, acrylic, pen & ink and watercolour. Recently I've got a bit more into digital illustration which is quite fun and cartoony.
Website: www.lornamulligan.co.uk
Lorna Mulligan joined Society6 on July 11, 2014.