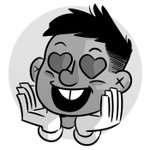 Louie Chin
Hello! I'm an illustrator and designer based in New York. I have worked with a variety of publications. Along side my illustration work, I also draw comics. Random bio facts because those are always fun - I'm a big fan of coffee and sleeping. Z Z Z Louie Chin joined Society6 on May 25, 2010
More
Hello! I'm an illustrator and designer based in New York. I have worked with a variety of publications. Along side my illustration work, I also draw comics.
Random bio facts because those are always fun - I'm a big fan of coffee and sleeping. Z Z Z
Louie Chin joined Society6 on May 25, 2010.