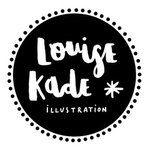 louisekadeillustration
Hello, welcome! I am Louise Kade, a pattern loving freelance illustrator based in Milton Keynes, UK. I am passionate about colour, surface design, type and nature, I explore these themes with my illustrative work alot and love to combine all four together. I also love cats, ghost films, sugar and plants. Happy shopping! INSTAGRAM- @louisekadeillustration http://louisekade.dunked.com https://www.tumblr.com/blog/louisekade louisekadeillustration joined Society6 on May 7, 2016
More
Hello, welcome!
I am Louise Kade, a pattern loving freelance illustrator based in Milton Keynes, UK.
I am passionate about colour, surface design, type and nature, I explore these themes with my illustrative work alot and love to combine all four together. I also love cats, ghost films, sugar and plants.
Happy shopping!
INSTAGRAM- @louisekadeillustration http://louisekade.dunked.com https://www.tumblr.com/blog/louisekade
louisekadeillustration joined Society6 on May 7, 2016.