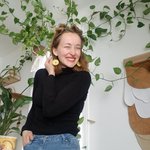 Lou Paints Cats
Yes, I am one of those cat people.
You know the ones who get filled with joy whenever they see a cat?
If this sounds familiar to you, then you came to the right place!
Hello and welcome!
My name is Lou and I paint cats.
It all started with my best friend, Tuna. Tuna was the first cat I ever painted. In fact, I couldn't stop painting the handsome beast. I started to share my cat paintings with friends and family who wanted their beloved cat babies to be immortalized too. It brought me so much joy to see these images of peoples cat besties and to hear their tales (hehe) of mischief and sweetness. And so my art business became. I paint cats because it truly is my favorite thing to do!
Follow my happenings on Instagram:
@loupaintscats
Shop originals at:
loupaintscats.com
Read more