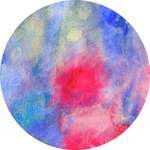 Love Arkie
Hello, I'm Alex. Thanks for visiting Love Arkie - my place to share one of my creative passions. I've studied or made art almost all my life, but I've only recently started sharing these works beyond close friends and family. Art is my meditation. I find the process of planning, executing, analysing and appreciating a work incredibly calming. When I'm not painting, I'm 'a busy working mum'. Art forces me to stop thinking, to take notice, to allow myself to make mistakes, and to be vulnerable - all healthy and crucial pastimes that don't always get much air time. I'm inspired by my natural surroundings here in Sydney, Australia. A bush walk, a trip to the beach, even a stroll to the park are all opportunities to absorb that can later result in a new colour palette, shape or texture in my work. If you're feeling social, follow me on Instagram (https://instagram.com/lovearkie/) where I post my latest pieces, experiments and inspiration. www.lovearkie.com Love Arkie joined Society6 on February 12, 2015
More
Hello, I'm Alex.
Thanks for visiting Love Arkie - my place to share one of my creative passions.
I've studied or made art almost all my life, but I've only recently started sharing these works beyond close friends and family.
Art is my meditation. I find the process of planning, executing, analysing and appreciating a work incredibly calming. When I'm not painting, I'm 'a busy working mum'. Art forces me to stop thinking, to take notice, to allow myself to make mistakes, and to be vulnerable - all healthy and crucial pastimes that don't always get much air time.
I'm inspired by my natural surroundings here in Sydney, Australia. A bush walk, a trip to the beach, even a stroll to the park are all opportunities to absorb that can later result in a new colour palette, shape or texture in my work.
If you're feeling social, follow me on Instagram (https://instagram.com/lovearkie/) where I post my latest pieces, experiments and inspiration.
www.lovearkie.com
Love Arkie joined Society6 on February 12, 2015.