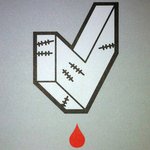 LoveHurts HQ
The place to find all things related to the LoveHurts comic book, like posters and other goodies;) LoveHurts is my award-winning independent comic book about relationships, bands that "call it a day", false excuses, dogs that burned in the stratosphere and heartbreaks in general. It was released in Brazil in 2011. In 2012 I've decided to translate it (with a little help from my friends) to english, and print a limited "international" edition that was released at San Diego Comic Con. This edition is very special, I've printed only 600, each one is numbered and I've made some variant-silk-printed-covers (2 so far, but more are coming). www.lovehurts.com.br LoveHurts HQ joined Society6 on November 17, 2012
More
The place to find all things related to the LoveHurts comic book, like posters and other goodies;)
LoveHurts is my award-winning independent comic book about relationships, bands that "call it a day", false excuses, dogs that burned in the stratosphere and heartbreaks in general. It was released in Brazil in 2011.
In 2012 I've decided to translate it (with a little help from my friends) to english, and print a limited "international" edition that was released at San Diego Comic Con. This edition is very special, I've printed only 600, each one is numbered and I've made some variant-silk-printed-covers (2 so far, but more are coming).
www.lovehurts.com.br
LoveHurts HQ joined Society6 on November 17, 2012.