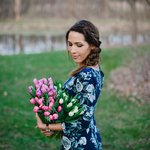 Love Shalmai
Hello, my name is Shalmai (Shall-my) and I'm currently a wedding and portrait photographer. I have been living in the Midwest for 5yrs but my heart resides in South Florida and my home of Puerto Rico. I originally aspired to be a classically trained singer, but changed my major after the first year in hopes to follow a more "stable career". In 2006 I graduated from The Art Institute of Fort Lauderdale with a degree in Interior Design. Soon after I embarked into the design field only to have everything fall apart during the recession. I looked for another outlet and another source of income when I remembered how much I loved to take photographs as a child. I decided to start my own business and have been successfully running my photography business for five years. As my photography business grew I started to search for a new way to be creative. I picked up some brushes and decided to venture into watercolor. I remembered how much I loved using watercolors when I attended an art school in Old San Juan, Puerto Rico as a child. I fell in love with watercolor all over again. As I created art for my own home, I realized that many others also wanted the same encouraging words or pretty florals in their home. I love flowers and to explore nature. I have a more free hand / loose approach to watercolor. I love softer colors and minimal design. After the loss of my third child in October of 2014, I decided to change some things in my life. It was time to step away from photography. As hard as it was to make that decision and announce it, I was excited to make room for the new. I knew I wanted to paint more and focus more on growing this little business. I am hoping that etsy is good to me as I start this journey of focusing on my art. I hope that you find encouragement and joy in my work. Love, Shalmai www.loveshalmai.com Love Shalmai joined Society6 on June 13, 2014
More
Hello, my name is Shalmai (Shall-my) and I'm currently a wedding and portrait photographer. I have been living in the Midwest for 5yrs but my heart resides in South Florida and my home of Puerto Rico. I originally aspired to be a classically trained singer, but changed my major after the first year in hopes to follow a more "stable career". In 2006 I graduated from The Art Institute of Fort Lauderdale with a degree in Interior Design. Soon after I embarked into the design field only to have everything fall apart during the recession. I looked for another outlet and another source of income when I remembered how much I loved to take photographs as a child. I decided to start my own business and have been successfully running my photography business for five years.
As my photography business grew I started to search for a new way to be creative. I picked up some brushes and decided to venture into watercolor. I remembered how much I loved using watercolors when I attended an art school in Old San Juan, Puerto Rico as a child. I fell in love with watercolor all over again. As I created art for my own home, I realized that many others also wanted the same encouraging words or pretty florals in their home. I love flowers and to explore nature. I have a more free hand / loose approach to watercolor. I love softer colors and minimal design.
After the loss of my third child in October of 2014, I decided to change some things in my life. It was time to step away from photography. As hard as it was to make that decision and announce it, I was excited to make room for the new. I knew I wanted to paint more and focus more on growing this little business. I am hoping that etsy is good to me as I start this journey of focusing on my art. I hope that you find encouragement and joy in my work.
Love, Shalmai
www.loveshalmai.com
Love Shalmai joined Society6 on June 13, 2014.