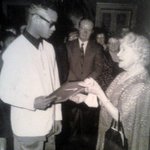 LoveSpud
I am an artist and designer, originally from the UK, now living in the Canary Islands. I am currently obsessed with t shirt design and clothing prints, and you can see some of my work at www.threadless.com, www.society6.com and at my website www.lovespuddesigns.com. In my late teens I was awarded with the National Youth Work Award for Fashion Design by the late HRH Queen Elizabeth the Queen Mother, an award I treasure to this day. LoveSpud joined Society6 on April 11, 2014
More
I am an artist and designer, originally from the UK, now living in the Canary Islands.
I am currently obsessed with t shirt design and clothing prints, and you can see some of my work at www.threadless.com, www.society6.com and at my website www.lovespuddesigns.com.
In my late teens I was awarded with the National Youth Work Award for Fashion Design by the late HRH Queen Elizabeth the Queen Mother, an award I treasure to this day.
LoveSpud joined Society6 on April 11, 2014.