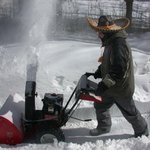 Gil Corral
Gil Corral received his BFA from the University of New Mexico, and works as an Artist and freelance illustrator. His work is in private collections nationally and internationally. He is the director and founder of Hogfarm Studios in Biddeford, Maine, where he teaches painting and drawing and guides life drawing studio sessions. Additionally, the Hogfarm is an active gallery space and hosts music events. View gilcorral.com for more images and current projects. and other bits of randomness. Gil Corral joined Society6 on October 18, 2012
More
Gil Corral received his BFA from the University of New Mexico, and works as an Artist and freelance illustrator. His work is in private collections nationally and internationally. He is the director and founder of Hogfarm Studios in Biddeford, Maine, where he teaches painting and drawing and guides life drawing studio sessions. Additionally, the Hogfarm is an active gallery space and hosts music events.
View gilcorral.com for more images and current projects. and other bits of randomness.
Gil Corral joined Society6 on October 18, 2012.